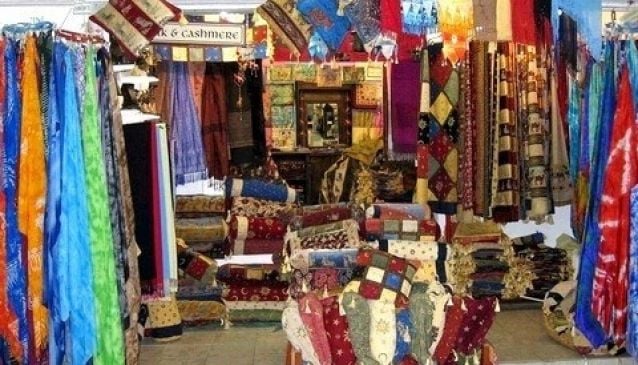 Shopping in Bodrum
Arts & Culture
On the Bodrum peninsula, traditional arts abound--bold, brightly colored and simply fabulous!
Souvenir Shopping
Certainly, an enjoyable part of a holiday in Turkey is shopping for souvenirs. They serve as reminders of this sunny paradise or as an object reflecting fond memories made with friends and family. On the Bodrum peninsula, inspiration is around every whitewashed corner and down every sun-dappled alley. Everything from old-fashioned postcards to luxury Turkish jewellery fills miles of souvenir shops in Bodrum, Turkey and its neighbouring coastal villages.
Shopping in Yalikavak
In
Yalikavak
,
artist's galleries
are found both in the village's winding back streets behind the harbour and sprinkled about its fabulous, new marina, Palmarina. Turkish painters flock to Yalikavak in summer for inspiration (and the ever-present cool breeze) and often paint landscape scenes and iconic images from around the area that make ideal souvenirs. Look to find pieces by one of the local favorites, Z. Kaba. His work is bold and colorful and easily recognized by those in the know.
Shopping in Turgutreis
Turgutreis
is smaller than Bodrum with a couple streets lined with artisan handicrafts just steps in from the marina--so easy to find. Items sold are often original and uniquely representative of the area's treasures. Some are one of a kind and others are carefully mass produced, yet maintain the artisan's intentions.
Talking with more than one shop owner and taking a stroll around to look at many before buying quickly gives you an understanding of what is authentic, ensuring you will not purchase a Turkish souvenir actually made in China.
Shopping in Bodrum
In Bodrum town centre, the best place to shop for souvenirs is back away from the seafront, just a bit, in the narrow cobbled streets behind the harbour and Castle. If you are unsure whether to try your hand at bargaining on prices, ask for the prices with the a local word "nekadar?" and be sure to display a great big smile.
If there is any hesitation at all, you have an opening you should seize. In general, the older, shop owners are much more likely to negotiate, than are their much younger workers. if you have a few items, try adding the total of their posted prices and rounding down a bit, making the first offer. You should be able to easily get such a discount.
Do not be shy and don't be afraid to leave and come back by--very obviously still looking at something-- because bargaining is indeed a time-honoured tradition. Be brave; having just one or two successes behind you will give you wings! Another tip to keep in mind is that if what you are looking at is anything but a one of a kind art piece, you will likely see nearly the same item at other locations around the peninsula and it MAY BE at a lower price only just a few steps away--take time to compare.
Suggested Turkish Holiday Souvenirs
The Evil eye is not solely a Turkish tradition but a Middle Eastern icon; however, it sure is everywhere in the villages here and has such a fun story to tell--and don't forget, they are also so easy to tuck into your suitcases.
These iconic ceramic pieces are a type of ancient talisman used to ward off "bad luck", stemming from the countless invasions Turkey has experienced. (See "Turkish Evil Eyes" for more info). Mostly seen in homes, offices and shops above doorways, they are also given to new-born babies. They have a bright blue background with an "eye" in the middle and are sold as large, round ceramic balls hanging on a rope or as flat key rings and plates. Even some fine jewelry of gold or silver have adopted the motif and they can make a lovely, lightweight gift.
The hookah pipe, also known as a nargile is another Middle Eastern tradition dating from Ottoman times. A large glass cylinder is filled with water and flavoured stones are placed on a small metal plate above it. The user then sucks the smoke from the pipe to enjoy a relaxed state of mind. Try smoking one in a nargile cafe before you buy; however, they also look great as a décor piece in the home.
Brass camel bells are another item you will likely encounter and they come in such a variety of sizes and ages. Prices go accordingly. While there are few camels still found here, the old bells are quite the collector pieces.The best place for these treasures are the local village pazars found around the peninsula.
More Souvenirs to Consider
Turkish carpets are very popular because they are an ancient tradition, originally used by nomads. Made by hand, over many months, motifs and symbols are directly connected with a certain tribe or area. This is one occasion when bargaining over the price is definitely needed and if possible, take a professional guide with you to ensure you are not buying a fake carpet made in another country.
Turkish Delight is a flavoured sweet, made from sugar and starch that comes in quite a variety of flavors. A local favourite is RoseWater. Called lokum, in Turkish, it was first seen in 1776, it was a high-born treat and often shipped to Europe to be eaten by high-class society. These days, fortunately, it is not as expensive and often sold on a buy two boxes –get one free basis.
There are also lovely small covered, stemmed glass dishes specifically designed for serving this special delight. A couple of pieces are traditionally served alongside Turkish Kahve at the homes of locals. Go to a village shop where individual pieces are sold by weight; there you can taste the many different flavours and then ask for a gift box to be created, ensuring your gift will be a fresh treat--not one that will be rock hard when your family back home try it out.
Onyx is in abundance in Turkey, taken from the earth and handcrafted into chess pieces,
jewellery
, and decorative items. In some places, you can watch the artist at work but they no longer use manual tools, favouring modern day machinery instead. The price can be expensive so remember to bargain.