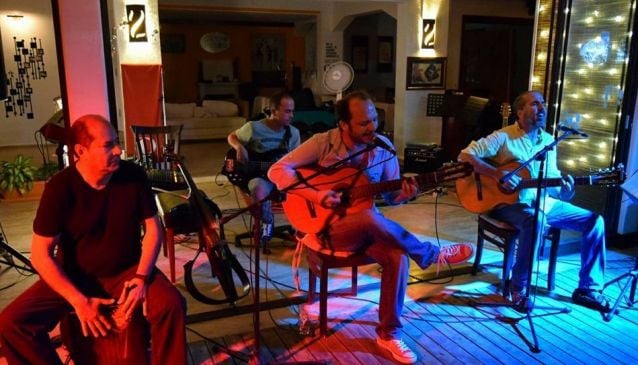 'Minor Restaurant a la Jazz' Really Sizzles!
Arts & Culture
Yalikavak's Top Dinner/Music Showcase!!!
The gem of Yalikavak, "Minor Restaurant a la Jazz" , both a restaurant and Jazz Bar, is truly a magical place! Certainly, we recommend you take one of your first nights in town to go and visit, as we are sure you will want to go back again and again before you leave!
Why is it such a special place for all of us in Yalikavak (and the surrounding Bodrum Peninsula)? Because not only does it have GREAT food and Drinks, FANTASTIC live entertainment-7 nights a week, but it also comes with a lovely story and wonderful, warm people!
* Click through the following pictures to see this lovely story unfold.
Kivanc Someren and Anil Sahin dreamed of leaving the Istanbul rat race behind and playing music full-time--looking to satisfy not only their passion for music, but also to move to a lower stress environment. (She was a Medical Doctor and Pharmaceutical Representative and he was a General Business Manager for a film company). They thought, "maybe open a Music Cafe?"
In 2009, the opportunity came when they moved to Yalikavak and opened the first "Cafe Minor", a tiny, beachfront cafe with a great view of the sea and encouraging friends and family pitching in to help! They created a simple, but delicious menu, set up her guitar and his keyboards, and then they put the sign out saying "OPEN"!
They started out, of course, doing nearly everything themselves, singing/playing and on their music breaks, greeting their guests and serving food and drinks, then hopping back to their mikes for a few more songs before time to clean it ALL up and prepare to do it all again "tomorrow". Thank God some loyal friends and family members were close at hand eager to pick up the slack and encourage them on!
Anil's sister, Alev, plays flute, greets guests, takes photos, and whatever is necessary--as a good sister would. Big brother, Akkin, and parents, Birsen and Selahattin, not only beam from the crowd, clapping profusely, but keep eagle eyes on the guests' needs, making sure all are having a wonderful night.
The little cafe grew and Kivanc and Anil got wiser (and gray-er, lol!). Soon, everyone knew the "Cafe Minor" and many locals became their nightly patrons. Those who were so true then, remain the same today--a real testimony to the fact that the Sahins put their customers first and actually, call them "their family".
One iconic couple have been at "Minor Restaurant a la Jazz" nearly every night since they opened. Yes, Melda and Hakki are family Rock Stars!
The menu grew bigger, the band grew bigger, the crowds grew bigger, so (you guessed it) it was time to relocate. A larger, yet just as charming place next to the new Palmarina, but still a very short walk from the old village, opened up and they began the next chapter of this story---"Minor Restaurant a la Jazz!"
The food is fantastic, with their specialty being a sizzling, melt-in-your-mouth steak where you choose the sauce and style pf preparation. Then you get wonderful accompanying vegetables, and can order excellent wines, and home-made mezzes to go along with your meal. Turkish style dishes and big, hearty salads will call your name as you look through the 4 page menu. It is truly impossible to go home hungry.
There is a bit of banter that goes back and forth amongst the regulars at "Minor Restaurant a la Jazz", where we say "Thank you" to Kivanc and Anil and immediately back comes, "No, thank you, YOU!" because they truly are thankful for their loyal family of friends and the wonderful life we have all been able to carve out here in LOVELY Yalikavak!
So what do you do AFTER you have just supped on the best foods and wines? Why dance, of course! Dancing is a big part of the draw at Minor a la Jazz and whether you indulge yourself or just prefer to watch, the enthusiam and fun is infectious! (There's even salsa classes 1 night a week.)
With such toe-tapping music, recognizable tunes from many genres, how can you sit still in your seat?
With the opening of the new place, everyone has room to sit, eat, and drink comfortably, but also to get up and mingle around the room...sharing long greetings, recent stories, and heartfelt friendship! (and all of the wonderful Turkish kisses and hugs!)
They say Turks take a 1/2 hour to come into a place and greet their friends, but 1 hour when leaving because of the new friends they must add to their goodbyes and it is ever so true at "Minor Restaurant a la Jazz".
The family of musicians has formed because of the love they feel from Anil and Kivanc...and from the faces in their audiences! One night there's Jazz Standards and Current Pop, another night Latin and/or Flamenco, one night Turkish and Intn'l Pop ...yet another night Rock and Roll ...the list goes on and on!
To say "Jazz" to a Turk simply put means "up-beat, hopping music", and that is exactly what you will get, with the exception of a few crooning tunes in between to allow for some slow dancing or time just to catch your breath.
Come and see for yourself. Visit soon to become a part of the "Minor Restaurant a la Jazz" family...you won't be dissapointed!