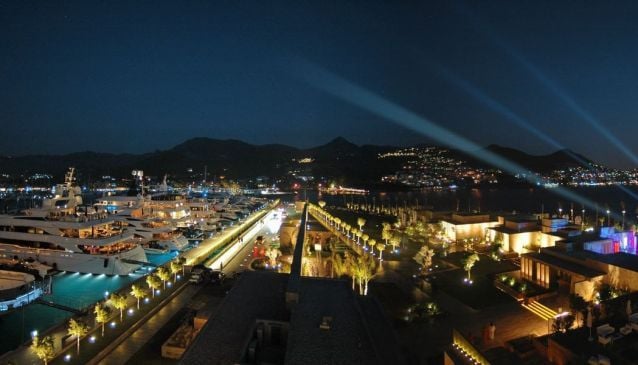 Palmarina Bodrum
Arts & Culture
Palmarina Bodrum, come see for yourself why everyone is talking about it!
Palmarina Bodrum. For the last 2 years, the yachting world has been a buzz about this new marvel in Yalikavak, Bodrum. With the developer spouting, "it will be the next Monte Carlo", it has held big promises of uber-excitement and cutting-edge glamor contained in an astounding, nautical mecca second to none.
Add to this a very attractive, old-world charm nearby as it is snugged up next to a beloved sleepy fishing village renowned for excellent weather, beautiful scenery, and close proximity to many historical wonders, found in both inland Turkey and the neighboring Greek isles.
Now, fully functional and ready to entertain its many guests, who are pulsing to get inside its gates, the question is whether it has indeed lived up to its promises?
The answer lies in personal preferences and orientations. Yes, most certainly, the world's finest, mega-yachts seem pleased as they pull into the bay on a regular basis. Yes, indeed, it is a glitzy hub of swank perceptions, one where being seen at a very visible and notable café for coffee or a neon lounge to sip a cocktail named after a celebrity is the height of "selfie" popularity. Yes, no doubt, the most highly recognized restaurant chains attract those seeking a much-hyped meal in a luxurious environment jutting out into the truly gorgeous bay. And finally, yes, buying a birthday gift here means your friend "will know how much you care", when they see the prestigious shopping bag you bring them.
So, the boat amenities, the hype, the glamor, the gorgeous sunset, the chic shopping experience is all here, as promised, but is that it?
You may have guessed by now, I am not a 20-something jet –setter, an avid sailboat circuit follower or even a lover of all things glitter and gold. Does that mean Palmarina is not to my liking? You may be surprised to learn my answer is, "not necessarily".
I do, in fact, find some aspects of it appealing, but please note, I said SOME. Rather than being thrilled with all of the ritzy shopping and sprawling concrete corridors lined with name-brand offerings, I greatly enjoy the amount of art the marina has brought in and how many exhibitions fill the calendar throughout the tourist months.
Selfishly, truth be known, I also covet knowing where to get amazing chocolates or out-of-this-world, mango-chiffon ice cream. And, yes, if a romantic "special occasion" comes up, I think of going to dinner in the marina at one of the oh-so-chic restaurants out on the very edge of the sprawl, where one step more and you would be literally in the water; exotic Japanese food comes to mind.
Do I wish it was located further away from "my lovely Yalikavak village" and not so very disruptive to the charming, slow-paced village life we all had here "pre-Palmarina"? Certainly!
Do I loudly swear at the amount of cars here in the summer and the disrespectful drivers who clog up the small town's arteries by parking anywhere they damn well please? Of course I do!
Then I remind myself that it is really only so intolerable the last of July and all of August. It is then, again, I promise myself to methodically plan to frequent the other, more relaxing, yet gorgeous villages around the peninsula this time next year--maybe even find a "house swap" where I can wait until September rolls around again and things here slow back down to a praiseworthy pace.
So, come to Yalikavak's Palmarina, and be prepared to be impressed, for one reason or another; pose your own opinions about its pros and cons. Find your own secret indulgences.
If you are a boat enthusiast, where better to dream? "People watching" is at least, amazing here. The Bodrum Peninsula has changed forever due to it, but that is not necessarily a bad thing.
Certainly, it provides a window into the world of the Aegean elite and will leave you wondering about life when being born with a proverbial "silver spoon in your mouth".
To learn all details about Palmarina Bodrum visit their website.