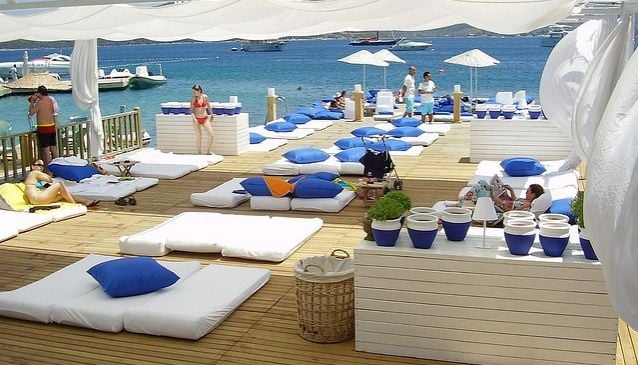 The Perfect Bodrum Beach Holiday
Family Fun
Bodrum beaches and coves that will make your holiday something special...
Summer Holidays often equal beach holidays for most. Here at the Bodrum Peninsula, cold winter days are replaced with high temperatures, carefree experiences, golden sands and a crystal blue sea.
The Aegean coastline of Turkey is a hive of activity for beach lovers flocking from all over the world. Days are spent sunbathing and enjoying watersports, while at night, everyone quietly watches the orange sunset on the horizon. If you are eager to get out and about on the beaches of Bodrum here are our suggestions
Best Beaches in the Bodrum Peninsula
Yalikavak is a small resort gaining popularity with families and older couples in particular. The main attraction is a long , narrow and sandy beach starting at the harbour front and twisting a path dramatically, around the peninsula. It is not a wide beach, but the variety of places you can choose to sit at and play at are so numerous. If you drive just at the end of this beach across the Kudor area, there are some great beaches called "Dodo" and "Potato" beaches where there is little more than one cafe ( albeit sufficient) and plastik beach chairs or picnic tables. They are perfect for a family who wants to spend the day and both have VERY sandy shallow entrances into the sea. At Dodo beach, you can even rent (for only 6 Lira) an already fired up and ready to go, charcoal grill, so you can cook your own kebabs etc.
Restaurants and bars at the back of the beach serve refreshments and food so there is no need to go far if you want to spend all day with the sand between your toes. The traditional charm of the town combined with modern influences has made it a favourite destination for artists from all genres, who return every year to open up their studios.
Turgutreis is a holiday resort with an overwhelming ability to make you feel at home. Friendly locals and an alluring vibe make it one of the most popular destinations on the Bodrum peninsula. If you wish to get the best of your visit to Turgutreis and its surrounding area, you need to spend a few days exploring all the beaches.
The main beach (Günbatimi beach) in the town centre is the most popular with easy access, sandy coastline and abundance of refreshment amenities nearby. Fener beach is further up the coastline and ideal for those who like water sports while the beach and coves of Akyarlar, just 8km away are perfect for exploring.
Kadikalesi has earned a reputation as the hard-core wind and kite surfing centre of the Bodrum Peninsula. Located 23km from the centre of Bodrum, this beach resort is all about staying true to traditional Turkish roots.
Cobbled streets and white washed houses, lead down the hill to the beach. In the height of summer this is a hive of activity as Turks flock from the big cities to enjoy water sports, and the relaxing and unique ambience of Kadikalesi.
The landmarks of Torba are the manmade jetties that strike out from the coastline. The jetties are the ultimate spot of relaxation and sophistication for those soaking up the Turkish sun. Double sun beds, decorated canopies, large squishy cushions and high quality service for refreshments, make this a popular place for people who do not like the some of the drawbacks of a normal beach.
Not technically a beach holiday but we feel that Torba adds a unique twist to sunbathing and relaxing on the Bodrum peninsula.
Adabogazi is a haven for snorkelers. Nicknamed the aquarium, it is between Gumbet and Bitez, in a small cove called Akvaryum. The nickname derives because of clear waters enabling you to see straight down to the seabed.
Although the beach is not spectacular, snorkelling in the water is immense fun for children. As with most places of natural beauty, Adabogazi is no longer a well-kept secret and many daily boat trips dock in here, but it still deserves to be seen
Yaliciftlik is a less well-known resort of the region; therefore, it has managed to retain its traditional charm and Turkish ambience. Quaint small coves and beaches are in abundance along the coastline and we recommend hopping on board a gullet boat cruise leaving daily from the harbour. They provide a useful form of transport to make it from one cove to the next in style.
Golturkbuku is quite different from all other resorts, as it is the place to head if you are wealthy, influential, famous, rich or simply want to mingle with high-end society or watch million dollar yachts anchored in the Golturkbuku bay. Beach life in Golturkbuku is sophisticated and stylish. Staff of exclusive beach clubs will pamper to your every need, whether you are relaxing on the beach or on one of the many wooden jetties protruding from the coastline.
So what are you waiting for? Go ahead and book a beach holiday in Bodrum, you will not be disappointed.