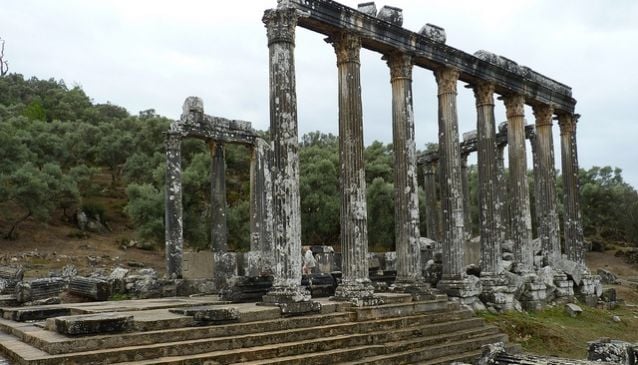 The Relics of Euromos
Arts & Culture
The Remains of Euromos, an inconspicuous, but marvelous historical site.
The Aegean coast of Turkey is scattered with historical ruins, from the grand and majestic site of Roman Ephesus to the Greek remains of Miletus and Priene. These attractions lure thousands of visitors annually who are eager to discover the amazing history of Turkey.
One site rarely mentioned though is the remains of Euromos on the Milas /Bodrum road. Take a look at why we think it is worth your time.
Greek and Roman History of Euromos
Driving up an old dirt track, we passed rows of olive trees and cows grazing in green fields. It seemed a long while before we reached the entrance. The ticket master who sat in a small, white booth was not in a good mood and dutifully announced in a grumpy voice that he wanted 8 Turkish liras per person to enter.
After discarding thoughts that this would be expensive for a family day out, I duly handed over the money and proceeded to where large tour groups stood with their guide. As a traveller on a budget, I cannot often afford the services of a guide, so I cheekily latch onto other groups--unfortunately, this group was speaking German. Off on our own we went.
My only source of information was the notice board, which revealed the main structure was the Temple of Zeus. With the help of an English speaking history buff we later found walking around, we learned quite a bit more. It is believed the emperor Hadrian built the temple in 2nd century BC but by the 5th century BC, it was known as Cyramos. Historians state it is one of the best-preserved Temples of Zeus with tall, slim columns facing north and west. The noticeable intricate carved decorations on some columns and then its lack on others indicated building of the temple was never completed. What is there is truly amazing as you walk around (and on top of) this ancient wonder and consequently, place yourself back in time.
Further excavation work is still being carried out, since previous digs have revealed there is much more to see: a large ampitheatre, defensive walls, and an Agora Street --all existing underground and yet to be opened to the public. Only an hour is needed to explore the site fully and while the entrance fee is far from value for money, it is a perfect example of a Temple of Zeus and could be a pleasant introduction into relic touring for tose not so certain it is their calling.
Additional Information
Euromos is open from 8.30am to 5.30pm every day
Continuing Your Visit
While visiting Euromos, venture further up the road to discover two more sites of beauty and historical value. The first is Bafa Lake, of which the surrounding lakeside restaurants serve delicious homemade Turkish breakfasts. If you are looking for an overnight place to stay, there is one hotel and many restaurants let you camp in their gardens for a small fee.
Continue further around the lake to get to the old Greek village of Heraclea. Local women will guide you around the surrounding historical ruins in return for purchasing some of their handicrafts. They also invite you into their houses for coffee and an introduction to Turkish culture.
Photo Credits to: Collin Key, Yilmaz Ovunc, Tamra Hays, Akyaka Manor, Damiendude