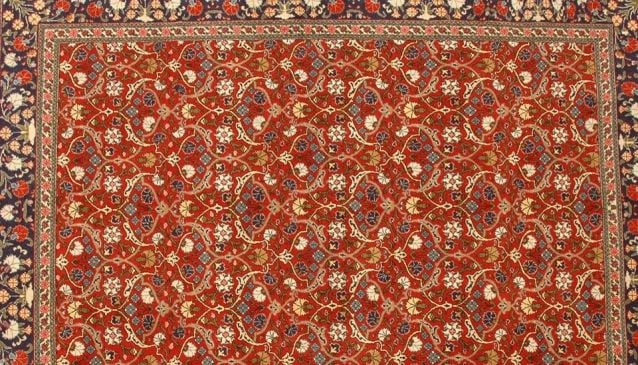 An Heirloom Investment
Arts & Culture
So how do you tell the difference between an authentic Turkish carpet and an impressive fake?
Who has not marveled at the beauty of a traditionally deisgned Turkish carpet? Most published lists of "souvenirs to buy while in Turkey" include Turkish carpets and kilims. Tourists wandering busy streets, window-shopping, are generally stunned by the array of souvenoirs on display, but no doubt at some point, someone lures them into a carpet specialist shop and serves them copious amounts of Turkish tea, while carpet after carpet is rolled out in front of them. What takes their fancy, only they know, as it is a very personal choice of what aesthetic combinations of materials, colors, and designs "hits just right"!
I have also been through the ritual and bought three handmade, traditional carpets, which now take pride of place in my hallway, living room, and bedroom. Due to their "dear" price, I am extremely diligent about looking after them, in order to preserve the colors and wool for a lifetime. I am also hugely in awe that each carpet was handmade by a local Turkish woman, who learned the art through female generations of her family. It is a tradition slowly dying off, like many other "village arts" as this world becomes more and more global and people more mobile. All the more reason why you should purchase one that rings special to you, if you have a chance. They will always hold their value and most often greatly increase over your investment cost.
Motifs and colors are particular to each region, thus ensuring each carpet has a tell-tale "fingerprint" of its humble beginning and heritage story. It is said that each weaver also hides her own "signature" somewhere in the carpet and only those with great knowledge are able to spot it. One of my carpets has a pair of green birds in the middle. I liked it's whimsical look very much, but later learned that the motif from that region would NEVER have "green" birds in it and while it was in fact an authentic carpet, it was made by a very young girl who made a mistake. Because of this mistake, the carpet's value could go two ways: since it is not true in design to the region, some would devalue it a bit, but others like a good story and a unique twist, so as long as it is, for a fact, a handmade, artisan-crafted carpet, the story actually could increase the value? It is all in the marketing, isn't it?
Carpet Producing Regions of Turkey
Respected for their handmade, traditional carpets, the areas of Canakkale, Milas, and Kayseri in central Anatolia are experts at the ancient craft. The king of all makers though, is the Hereke town on the outskirts of Istanbul that notoriously created many elaborate, silk carpets to line the majestic places of the Ottoman Empire.
In the Bodrum area, we see examples of carpets from many regions; however, our local town of Milas has the biggest selection here and there are day trips to be taken to the actual small villages around Milas whereby you can view these carpets being made or visit a showroom of hundreds of area carpets for sale. The proprieters of these village carpet centers offer a wealth of knowledge and often give courses about the art to help promote their village. If like me, you find it all fascinating, you certainly should make a day of it , locate 1 or 2 of these centers, and drive off into the mountains to find these authentic gems.
OK, so traditionally made using pure silk or wool, Turkish carpets are a collector's dream but not everyone who invests in them has a happy tale to tell. Technology has enabled copycat, machine-made versions to be produced in bulk, sometimes finding their way into Turkish shops from the factories of China.
So how do you tell the difference between an authentic Turkish carpet and an impressive fake? Check out our tips!
Tips for Buying Turkish Carpets and Kilims
A "carpet" will most often be made from wool or a wool blend. The more wool, the better the carpet. Sizes range from very small, mat-like pieces to huge, floor size carpets. Comparing two different carpets with nearly the same color and motif on them, one will most certainly be a bit longer or wider, as size is not controlled to a science in hand-made carpets. To have an EXACTLY even measurement is suspicious--for example, a 5 x 7 carpet will be something like a 5.2 x 7.4.
Each carpet is traditionally made using a knotted pile style, so the back should match the design and colours on the front. There are single knot and double knot techniques--douple knot being superior in strength and longest wearing. The knots should be finely tied off, not too big and loopy, making a "rougher, shaggier"' appearing surface.
Only pure earth-tone, vegetable dye is used for the colors. To spot chemical dyes, part a section of the carpet with two fingers and examine the colour thoroughly from the top to bottom of the wool. If it differs in tone, chemical dyes have been used or poor workmanship is at fault.
A truly professional salesman with genuine knowledge of this tradition will be able to answer all of your questions. If not, find another seller. Ask about the meaning of the motifs, the vegetable dyes used, where the carpet was made, and the background history of that village or town. Ask him to show you similar carpets, once you have an idea of the general style and colors you like.
From the topside, pull tightly at a small section of the wool. It should never give way or fray. There are, on occasion, some fragment strays on the underneath side, but they will be obvious and not a sign of inferior workmanship, simply some loose threads not yet shaken off.
Lay out the carpet and check for straightness of outer edges and lines in the motif. If truly crooked (not just a bit warped from being rolled up) then it is inferior and you should choose another.
Do not assume a "certificate of authenticity" means the carpet is real or in 100% condition. These certificates are easily faked.
Moisten a white piece of cloth and gently rub the wool. If any colour pigment comes off, it is fake or poorly constructed.
Remember, prices will go up with each one of these desired features and if you are looking at buying an heirloom, certainly you will not want to compromise. However, if your money is tight and you want to stretch it as much as possible, then you might adjust some of your criteria and still get an authentic carpet, just one that has minimal flaws. Few people back home will know what you know about it.
Notes:
Many countries have an agreement with Turkey when it comes to incoming duties on Turkish carpets. For example, the USA has no duties on Turkish carpets shipped from Turkey. Ask your seller if he can assist you with shipping and saving costs. Most are only to happy to do so.
Although you are shopping for an authentic Turkish carpet, remember that exporting antiquities more than 100 years old is against the law. You may be able to get an close to 100 yr. old carpet at a good price now and in just a few years it will soar in value, so there's a thought!
One of our favorite carpet centers is between Bodrum and the Airport, in a small village

Çamlik

. We have recommended him for years and everyone has been quite happy. Sendhim an email or call first, go visit, ask questions, learn, buy, and enjoy your day. (He has a tea house just next door and he keeps some priized Camel Wrestling Camels in the barn, so it is a pleasant and interesting afternoon's activity.) Kahraman Carpet Proprietor: Mehmet Kahraman Email: Kahramancarpet@hotmail.com Tel. (+90) 533 309 5551 Website:

http://www.turkishcarpetsbodrum.com/

Language of Motifs in Handmade Turkish Carpets and Rugs

Ram Horn: Symbol of power
Cypress: Symbol of eternity and tree of life
Wheel of fortune: Symbol of fate
Chest: Symbol of a maidens trousseau
Grain: Symbol of abundance
Eye: A motif used to keep the evil away


DOBAG project
A centre or co-operative connected with the DOBAG project, promises authentic carpets, rugs, and kilims. Their project mission is to ensure local women are paid good prices for their work but they are also guarantors that the carpet is traditional Turkish by giving it a stamp of approval. Read more information on the project here.
Shopping for Carpets in Bodrum
Check out our Business Listings for where to buy a carpet in Bodrum: